Welcome to Promotional Products by Mid Florida Sportswear!
Order promotional products with the confidence that comes from a company that has a 35 year track record of fulfillment! Please note, there is a shipping charge from the manufacture to our factory in Daytona Beach. If you have any questions, please feel free to contact us at (800) 365-5632 or email esales@mfswear.com Thank you and enjoy!
Featured Item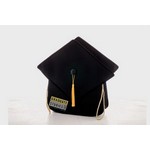 The Grad Bag Deluxe - 17" x 19&quot...
Luxury Felt Graduation Bag. The Grad bag deluxe is a magnificent bag option for a school function event, college party celebration and educational fundraiser projects! It is the real bag with the real...